If you are having trouble coping, you are not alone.
If the pandemic is having a negative impact on your daily life, you are not alone.  Help is free and available 24/7 for both the young and old who are challenged by the stress associated with the pandemic.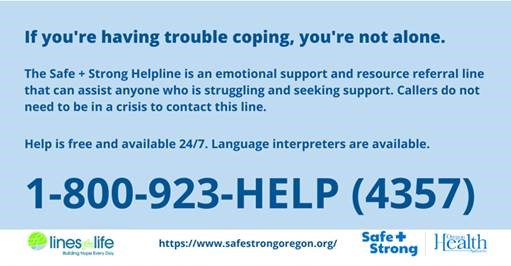 Safe & Strong
Website:  https://www.safestrongoregon.org/
Toll Free Phone Number: 1-800-923-4357
A resource for Parent Education:
Umatilla-Morrow Head Start is open to serve children and families.  UMCHS is an agency committed to ensuring that children, and those who care for them, are given all the tools they need to create healthy and happy futures for the next generation.  They are offering parent support during the pandemic.  Programs include parent support groups, connection to community resources and free books and activities for your children.
Please visit https://umchs.com/ or call 1-800-559-5878
Meet Emily OPEC  A short video