District Designated as Best Communities for Music Education
Pendleton School District 16R has been honored with the Best Communities for Music Education designation from The NAMM Foundation for its outstanding commitment to music education.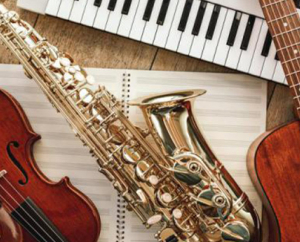 Now in its 21st year, the Best Communities for Music Education designation is awarded to districts that demonstrate outstanding achievement in efforts to provide music access and education to all students. To qualify for the Best Communities designation, music staff led by Emily Muller-Cary answered detailed questions about funding, graduation requirements, music class participation, instructional time, facilities, support for the music program and community music-making programs. Responses were verified with school officials and reviewed by The Music Research Institute at the University of Kansas.
"This recognition confirms the combination of outstanding educators, great students and an amazing community focused on the values and benefits of music education", stated Superintendent, Chris Fritsch.
This award recognizes that Pendleton School District is a state and national leader with learning opportunities as outlined in the Every Student Succeeds Act (ESSA). ESSA recommends music and the arts as important elements of a well-rounded education for all children. Here is what some of the district's students and staff said about the award notification:
"Being a part of the music program has been a highlight of my high school experience. I will be able to pursue music for the rest of my life because of the foundation that has been provided by Mr. and Mrs. Cary."
—Andrew Wolotira, PHS Senior and member of the Jazz Band, Swing Choir, Symphonic Band, and A Cappella Choir
"Our music program is full of amazing and talented students and teachers who are willing to go the extra mile for each other in and out of class."
–Tanna Stewart, PHS Senior and member of A Cappella and Swing Choir
"The music program at Pendleton High School is an amazing way for students to express themselves. The staff involved make sure the environment feels safe, which leads to some pretty rad art!"
–Collin Taber, PHS Senior and member of A Cappella and Swing Choir
"I'm proud to work for this school district and continue to be amazed by the incredible students we have and the level of support we receive in arts education in Pendleton."
— Andy Cary, Music Instructor, 16th year in PSD, PHS and SMS Band
"Pendleton School District is incredibly supportive of the arts, and we're so fortunate to work in a district that recognizes that every student has different needs and ways to succeed."
–Emily Muller-Cary, Music Instructor, 12th year in PSD, Strings/Orchestra 4-12, and PHS Choir
Research into music education continues to demonstrate educational/cognitive and social skill benefits for children who make music. After two years of music education, researchers found that participants showed substantially more improvements in how the brain processes speech and reading scores than their less-involved peers. Students who are involved in music are not only more likely to graduate high school, but also to attend college as well. Everyday listening skills are stronger in musically trained children than in those without music training.
A 2015 study supported by The NAMM Foundation, "Striking A Chord," also outlines the overwhelming desire by teachers and parents for music education opportunities for all children as part of the school curriculum.
About The NAMM Foundation
The NAMM Foundation is a nonprofit supported in part by the National Association of Music Merchants and its approximately 10,400 members around the world. The foundation advances active participation in music-making across the lifespan by supporting scientific research, philanthropic giving, and public service programs.  For more information about The NAMM Foundation, please visit www.nammfoundation.org.